PIMA's user-friendly LCD keypads provide a modern aesthetic design with soft-touch illuminated keys and audible tone.

Key features
• Keywords for quick entry to menu sections
• Programmable names for zones and users
• Internal chime
• Easy installation and mounting
• Green Arm indication led
• Red Fault indication led
• Connection for fast programmer
One-Screen 12-Parameters Programming
The menu-driven LCD programming screen (with up to twelve different functions per screen) is simple to use, and eliminate the need of installation manuals. The system programming is fast and incredibly easy to master.
PIMA's Unique Status Bar
PIMA's menu-driven LCD screens make programming as simple as using a smartphone, completely eliminating the need for manuals. With a single glance at the LCD screen, the status of all zones as well as active panel functions can be immediately seen.
Single Screen 16 Zone Status Bar Example
• The zone numbers are printed on the keypad;
• The zones marked with a hyphen are closed;
• The zones marked with a square are open;
• The letters indicate various notifications, such as alarm memory, fault/short zone, bypassed zones, etc.
The example below shows a 16 zone system. The lower line provides the zones' status; a grey square for "Open zone" (zone 2), a hyphen for "Closed zone" (zone 7). The A in zone 9 indicated there was an alarm event, zone 13 shows a Fault (marked as F) and zone 15 is bypassed (marked as B).
The upper line provides information about the system: The A under the number 26 indicates that Auto-arming is set, the panel's battery is low and the time is currently 13:27.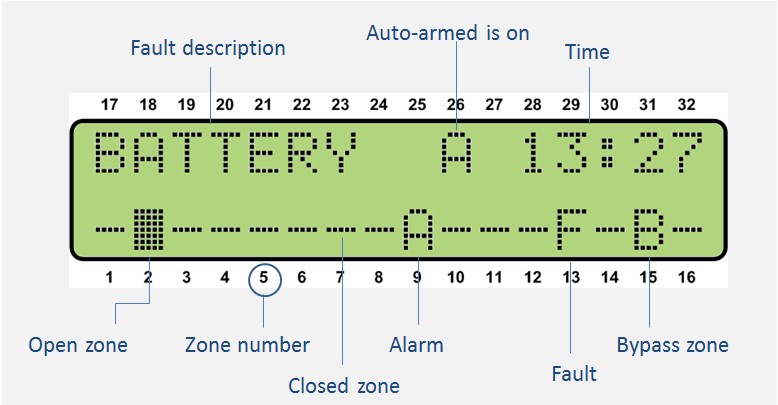 The system displays the Status Bar for quick reference but in the event of a failure or other events (e.g., open tamper, fire, etc.), the system will switch to scrolling lines display. As soon as the event has been dealt with, the display returns to the status bar display.

Single Key User Menu Operation
Each key is assigned a specific user function, written above the key. Users can easily operate the alarm system without the need for a user manual.
For example, to program user phone numbers, simply enter master code and press key <6> marked as "PHONE"

Available models
- RXN-410/400: Large or small LCD screen
- RXN-410 Large Blue LCD screen